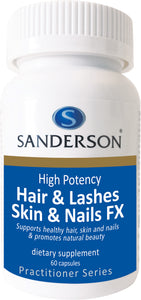 Hair & Lashes, Skin & Nails FX Softgels
NATURAL BEAUTY FROM WITHIN
"BEAUTY is more than just skin deep", or so the saying goes and for good reason. Optimal nutrition is at the heart of a healthy complexion, lustrous hair and strong, good looking nails. Skin, hair and nails contain structural proteins called Keratins and all have similar nutritional requirements. For optimal condition these structures need an adequate dietary intake of protein, essential fatty acids and key vitamins and minerals.
Sanderson have combined the best in 'beauty from within' nutritional supplements in a premium quality, convenient to take, one a day softgel capsule. This unique formulation provides the nutritional building blocks the body needs to support optimal hair and nail condition and healthy, vibrant skin.
Hair & Lashes, Skin & Nails FX includes an unmatched combination of nutritional ingredients at effective levels.
Marine Collagen (derived from fish) contains Type I collagen which comprises 85% of human skin collagen and is a building block of healthy skin structure. It is highly bioavailable and supports skin hydration, firmness and elasticity, the fundamentals of a youthful, healthy complexion. Organic Flax Seed Oil is used to balance the skin's natural oils and support the body's natural healing response to dryness, redness and itching. The omega fatty acids and vitamin E in Flax Seed Oil also nourish the scalp, hair follicles and hair shafts for strong and shiny hair.
Grape Seed Extract rich in Oligomeric Procyanidins (OPCs) is recognised as a potent antioxidant; supporting resistance to Reactive Oxygen Species ('free radicals') which cause oxidative stress leading to cellular damage including premature ageing, fine lines and wrinkles. Hyaluronic Acid is a naturally occurring polysaccharide in the human body. It is a powerful humectant or moisture-binding ingredient and helps maintain skin's hydration and youthful appearance. Hyaluronic Acid also supports the synthesis of collagen in the body.
Vitamin C supports the formation of collagen helping to strengthen skin, connective tissue, bones and blood vessels. It is an antioxidant that supports resistance to cellular damage caused by free radicals. Selenium is a trace mineral that is deficient in New Zealand soils. It is a potent antioxidant as well as playing a role in healing skin conditions like pimples and blemishes. Selenium supports normal hair growth and may help dandruff, grey and thinning. Natural Vitamin E provides antioxidant protection and supports blood flow required for healthy cellular regeneration. Colloidal Silica is an absorbable form of this mineral building block of healthy hair and nails. It also supports the metabolism of calcium by the body.
Vitamin B5 supports healthy adrenal glands and blood flow to the scalp and helps the body resist thinning hair. Vitamin B6 supports protein and carbohydrate metabolism as well as the formation of red blood cells and helps collagen formation. Zinc is recommended to work in conjunction with Selenium to support skin condition and healthy hair. Zinc concentrations are high in the skin and deficiency may lead to a range of skin disorders. Astaxanthin is a natural carotenoid derived from algae that has been shown to be a powerful antioxidant agent that supports skin elasticity. Up to 54 times more potent than beta carotene, Astaxanthin may also support skin resistance to harmful UV radiation. Biotin, also known as vitamin B7, is included to provide nutrition for brittle nails and thinning hair.
EACH CAPSULE CONTAINS:
Marine Collagen Powder
300mg
Organic Flax Seed Oil
100mg
Grape Seed Ext. (95% OPCs)
75mg
Hyaluronic Acid (Sodium Hyaluronate)
50mg
Vitamin C (Calcium ascorbate)
50mg
Selenium (L-Selenomethionine)
50mcg
Natural Vitamin E (d-Alpha Tocopherol)
40iu
Colloidal Silica (Silicon dioxide)
30mg
Vitamin B5 (Calcium Pantothenate)
9.17mg
Vitamin B6 (Pyridoxine hydrochloride)
8.23mg
Zinc (Amino acid chelate)
7.5mg
Astaxanthin
3mg
Biotin
1.25mg
SUPERIOR LOW ALLERGY FORMULATION:
This formulation is free from artificial flavours, sweeteners and preservatives, cereals containing gluten, crustaceans, eggs, peanuts, nuts, celery, mustard, sesame seeds, sulphur dioxide and sulphites above 10ppm, mollusk, lupin, yeasts and corn.
CONTAINS SOYBEAN OIL & FISH
1-2 capsules per day or as professionally prescribed Always read the label and use as directed. If symptoms persist see your healthcare professional.
Not recommended while pregnant or breastfeeding. If taking prescription medication or if in doubt consult your health professional before use.
TAPS PP3701