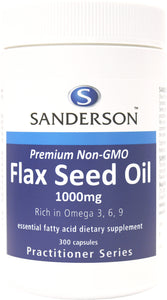 Premium non-GMO Flax Seed Oil 1000mg Softgels
Flax Seed Oil comes from the seeds of the flax plant (Linum usitatissimum, L.). Flax Seed Oil contains both omega-3 and omega-6 fatty acids, which are needed for health. Flax Seed Oil contains the essential fatty acid alpha-linolenic acid (ALA), which the body converts into eicosapentaenoic acid (EPA) and docosahexaenoic acid (DHA), the omega-3 fatty acids found in fish oil. Omega-3 fatty acids, usually from fish oil, have been shown to support joint mobility and general well being.
Scientific studies suggest that flaxseed oil or other omega-3 fatty acids may be helpful in a variety of conditions:
Cholesterol health
People who follow a Mediterranean diet tend to have an increased HDL, or "good" cholesterol level. The Mediterranean diet emphasizes fish and healthy fats, such as olive oil, and has a healthy balance between omega-3 and omega-6 fatty acids. Whole grains, root and green vegetables, daily portions of fruit, fish and poultry, olive and canola oils, and ALA (from flax seed, flax seed oil, and walnuts) are also part of the Mediterranean diet. Red meat and saturated fats are not part of the diet. Some small studies show flax seed oil supports healthy cholesterol levels.
Heart health
Eating a diet rich in fruits, vegetables, whole grains, nuts or legumes, and ALA rich foods may substantially reduce the recurrence of heart disease. One of the best ways to help prevent and treat heart disease is to eat a diet that is low in saturated and trans fat and rich in monounsaturated and polyunsaturated fats (including omega-3 fatty acids from flax seed and fish). ALA may support a healthy heart through a variety of ways, including supporting healthy blood and blood vessel health. Several human studies also suggest that diets rich in omega-3 fatty acids (including ALA) may support healthy blood pressure.
Sjogren's syndrome (Dry Eye)
Preliminary evidence that suggests taking 1 - 2 g of flaxseed per day can help support dry eye in people with Sjogren's syndrome. Sjogren's syndrome is an autoimmune condition where the immune system attacks glands in the body that produce moisture, like salivary and tear glands.
Some evidence suggests flax seed oil may provide support for temperature balance during the Pre Menstrual period or during menopause. It has also been suggested that it supports breast and prostate health. Skin condition, digestive and bowel health may all be supported by taking flax seed oil.
PLEASE NOTE: This product uses organically certified Flax Seed Oil as the main ingredient. Organic certification does not apply to the entire finished product. The product is manufactured under international GMP (Good Manufacturing Practice) quality systems.
AVAILABLE IN A 300 CAPSULE PACK
EACH CAPSULE CONTAINS:
Organic Flax Seed Oil
1000mg
Providing:
Alpha Linolenic Acid (Omega 3)
150mg
Oleic Acid (Omega 9)
150mg
Natural Vitamin E
5mg
SUPERIOR LOW ALLERGY FORMULATION
Free from sugar, yeast, dairy, lactose, egg, wheat, corn, gluten, nuts, artificial colouring, preservatives or flavours. Certified organic & GMO-free.
1-2 capsules three times daily with food or as professionally prescribed. Not recommended for children under 12 unless advised by a health professional. Always read the label and use as directed. If symptoms persist see your healthcare professional.
TAPS PP3701