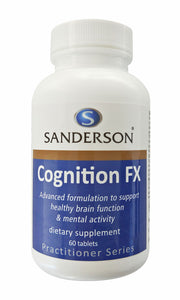 Cognition FX Capsules
AVAILABLE IN A 60 CAPSULE PACK
Your "Grey Matter" matters!
Your brain is a wonder of nature, an incredible multi-faceted organ, all of which works collectively to keep you alive, participate in and make sense of the world you live in. The benefits of a healthy functioning brain are black and white, it is essential to enable you to live a long, healthy and fulfilling life; and it's never too late (or too early) to take steps to maintain a healthy brain.
5 Easy Steps to Optimise Brain Health
Take care of your heart
What's good for your heart is good for your brain: high blood pressure, high cholesterol, diabetes, smoking and obesity have all been associated with higher rates of declining brain health and increased risk of dementia. Healthy blood vessels support a healthy brain and thinking skills.
Get active
There is good evidence that regular physical activity gives brains a healthy boost. Regular exercise is associated with better brain function and reduced risk of cognitive decline. Any exercise is better than none, and regular physical activity on most days is best.
Mentally challenge yourself
Use it or lose it! Scientists have found that learning new activities or skills helps build new brain cells and strengthen the connections in the brain. Whether its learning a new language, a new sport or a new hobby, or doing puzzles, challenge yourself mentally and keep learning.
Eat healthy
"Let food be thy medicine". Your brain needs a range of nutrients to function properly, and evidence indicates that a balanced diet may help maintain brain health and functionality. For example the healthy Omega 3 fatty acids found in fish have been linked to a number of positive benefits for brain health.
Get social
Most humans are social animals and prefer company to isolation. Social engagement has been found to be beneficial for cognitive function, as well as vascular condition and mood. Social activities that combine both mental and physical activity such as dancing or team sports, provide even greater positives for brain health.
What about health supplements for the brain?
There are numerous natural 'nootropic' substances that may help support brain health and mental clarity. While there are no 'magic bullets', as more research is done, the efficacy of these ingredients is becoming clearer. Sanderson have reviewed much of the available research and developed a complex of what we believe are a group of nootropic nutrients with good evidence for supporting brain health, and in particular, mental clarity and focus and cognitive functions.
SANDERSON Cognition FX
Key Features & Benefits:
Choline – a neurotransmitter precursor that supports healthy nerve cells.
L-Theanine – an amino acid found in tea that supports calmness and mental focus.
Bacopa monieri – an Indian herb widely used to support mental clarity and healthy brain function.
Rhodiola rosea – a herb that supports feelings of well-being and mental focus.
Gotu kola – a neuro-protective herb that supports blood circulation and mental function.
Vitamin B12 and Folic Acid – Support normal homocysteine levels.
Huperzine A – a special plant extract from Huperzia Serrata that supports mental clarity, focus and behaviour
Vitamin E – A neuro-protective antioxidant
EACH CAPSULE CONTAINS:
Choline Bitartrate (40% Choline)
200mg
L-Theanine
200mg
Bacopa Monnieri (50% extract)
150mg
Rhodiola Rosea (5% Rosavins)
150mg
Gotu Kola (40% Triterpenes)
100mg
Vitamin B12
50mcg
Folic Acid
300mcg
Huperzine A (Huperzia Serrata extract)
100mcg
Vitamin E
30iu
SUPERIOR LOW ALLERGY FORMULATION:
This formulation is free from artificial colours, flavours, sweeteners and preservatives, cereals containing gluten, crustaceans, eggs, peanuts, nuts, celery, mustard, sesame seeds, sulphur dioxide and sulphites above 10ppm, mollusk, lupin, yeasts and corn.
1-2 capsules daily with food or as professionally prescribed. Begin with 1 tablet per day, increasing to 2 if required. Choline may initially cause a headache if this occurs reduce dosage. Always read the label and use as directed. If symptoms persist see your healthcare professional.
Choline may initially cause a headache in some people. If this occurs reduce dosage. DO NOT take this product if you are using anti-psychotic or anti-depressant medicines. If you are taking Warfarin please check with your doctor before using.
TAPS PP3701