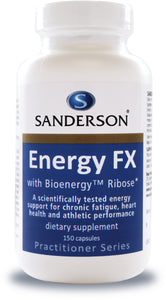 Energy FX Capsules
AVAILABLE IN A 150 CAPSULE PACK
FATIGUE – A complex symptom
Fatigue can be a result of working, mental stress, over-stimulation and under-stimulation, jet lag or active recreation, depression, and also boredom, disease and lack of sleep. It may also have chemical causes, such as poisoning or mineral or vitamin deficiencies. Chronic blood loss frequently results in fatigue, as do other conditions that cause anemia. Fatigue is different from drowsiness, where a patient feels that sleep is required. Fatigue is a normal response to physical exertion or stress, but can also be a sign of a physical disorder.
Fatigue is generally considered a more long-term condition than sleepiness. Although sleepiness can be a symptom of medical issues, it usually results from lack of restful sleep, or a lack of stimulation. Chronic fatigue is a symptom of a greater medical problem in most cases. It manifests in mental or physical weariness and inability to complete tasks at normal performance. Both are often used interchangeably and even categorized under the general description of 'being tired.'
While B vitamins and some herbs may be beneficial, particularly in cases of stress-related fatigue, a naturally occurring 5 carbon carbohydrate (simple sugar) that the body makes from glucose called D-Ribose may be a more effective solution, especially in cases of persistent chronic fatigue. An internationally famous US doctor and TV personality rates D-Ribose as his number 1 fatigue fighter.
What is Energy FX?
Energy FX is Ribose or D-Ribose, the naturally occurring simple sugar that the body makes from glucose. This substance is found in ribonucleic acid and deoxyribose acid, better known as RNA and DNA. D-Ribose is also a component of several compounds involved in metabolism, most notably adenosine triphosphate, or ATP, which regulates energy production and storage in cells.
D-Ribose is a simple 5 carbon sugar (glucose is a 6 carbon sugar) that unlike glucose is not "burned" for energy but is conserved by cells for rebuilding the energy pool. It's the only compound used by our body to manage cellular energy restoration. When D-Ribose is consumed, the body recognizes that it is different from other sugars and preserves it for actually making the energy molecule (ATP) that powers the heart, muscles, brain and every other body tissue. ATP is the energy 'currency' of the cell, and D-Ribose provides the key building block for ATP.
Research into the benefits of D-Ribose has been extensive across a range of conditions, the first human study being done in 1958. The patented ingredient in Energy FX has been used in many of the published studies.
What does scientific research say?
Much of the published research has focused on the use of D-Ribose in association with heart health, chronic fatigue and as a pre- and post-exercise recovery tool for athletes.
A 1973 German study reported that energy starved hearts could restore their energy levels if D-Ribose was given prior to or immediately following ischemia (reduced blood flow causing oxygen deprivation). A University of Bonn (Germany) study published in 2003 showed that administration of D-Ribose supported the performance of the heart and improved exercise tolerance, and enhanced quality of life. Results of a 2012 multi-centre US research programme looking at chronic fatigue showed benefits began in the first week of consumption and continued to increase at the end of three weeks. D-Ribose supported energy levels, sleep, mental clarity, muscular comfort and general well-being. These results echoed a 2006 study published in the Journal of Alternative & Complementary Medicine, which reported similar significant benefits.
Who should take Energy FX?
People experiencing chronic fatigue and associated energy depletion
People seeking to support heart health
Athletes seeking to support endurance and recovery.
People seeking to restore normal energy levels.
It is important to follow the dosage instructions to achieve optimum benefit from Energy FX.
Why choose Sanderson Energy FX?
Energy FX contains a unique patented form of D - Ribose that has been used in many of the scientific trials done to date. Sanderson choose to use this ingredient as it is widely regarded as the best quality available and has been shown to be effective.
EACH CAPSULE CONTAINS:
D-Ribose
800mg
5 capsules three times per day for the first 3 weeks; then reduce to 5 capsules twice daily. May be further reduced to 5 capsules per day as a maintenance dose. Or as professionally prescribed. Always read the label and use as directed. If symptoms persist see your healthcare professional.
When taken as directed there are no known interactions or side-effects. Over consumption may cause gastrointestinal distress such as diarrhoea. We recommend that you always keep your health professional informed of any supplements that you may be taking, especially if you are taking this product for heart health.
TAPS PP3701